School District of the City of Tonokabon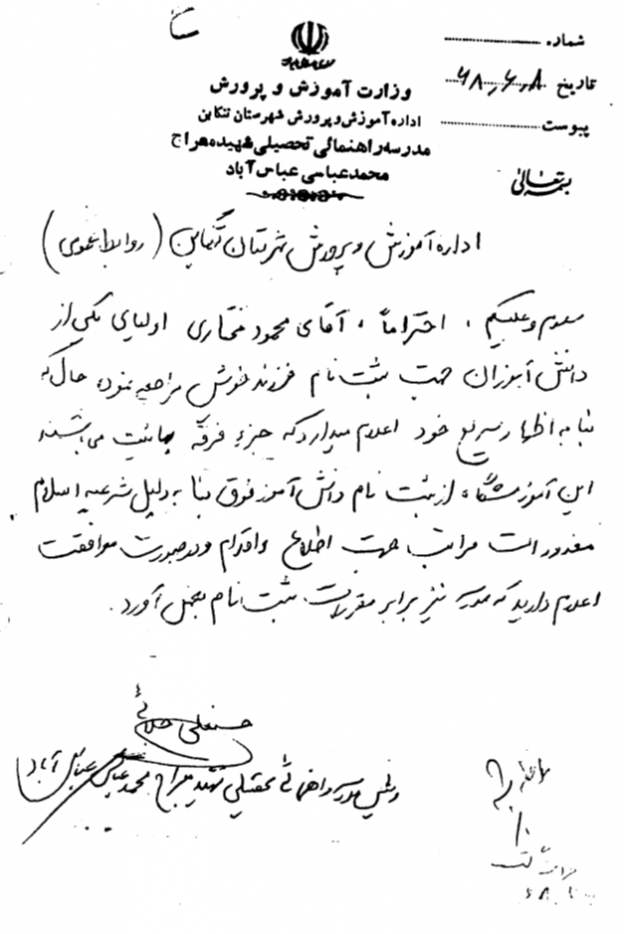 [Logo of Islamic Republic of Iran]
Ministry of Education
School District of the City of Tonokabon
Shahid Me'raj Mohammad Abbasi Abbas-Abad Junior High School
Number....................
Date 68/6/8 [29/08/1989]
Attachment.............
In His Name, Exalted Be He
School District of the City of Tonokabon (Public Affairs)
Greetings!
Respectfully, Mr. Mahmoud Mokhtari, the guardian of one of the students came to register his child. Now that he has quickly [possibly was meant to say "clearly"] declared he is part of the Bahá'í sect, this institution will not register that student. This is [conveyed] for your information, and if it is agreed on, please inform [us] so that the school may follow the required policy for registration.
[Signed] Hasanali Jala'i
Principal of the Shahid Me'raj Mohammad Abbas Abbasi Jr. High School
I was considered
[Illegible]