Dismissal of a Baha'i Employee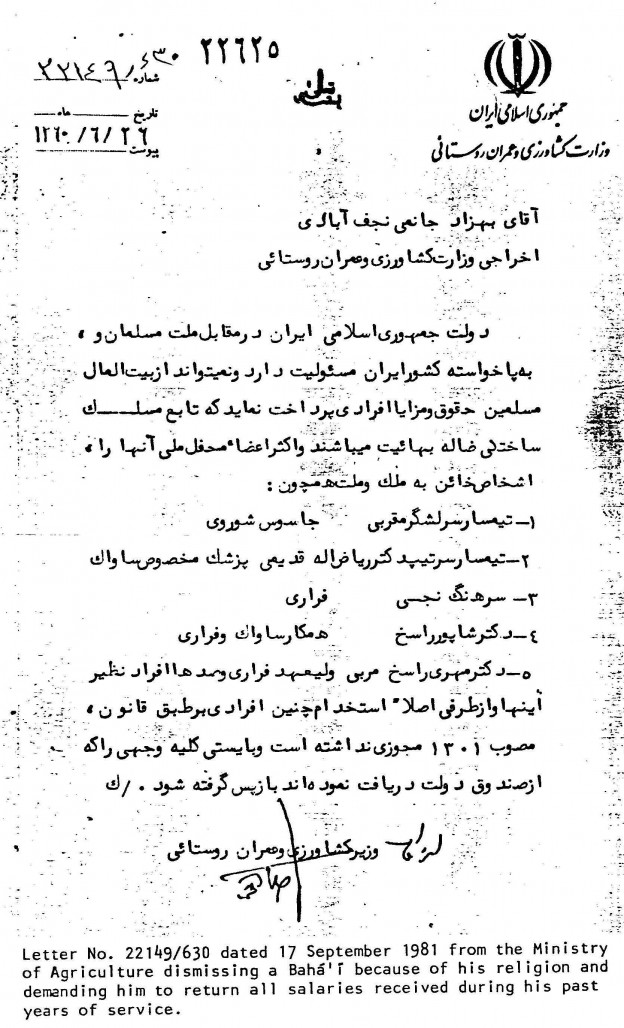 [Seal of The Islamic Republic of Iran]
The Ministry of Agriculture and Rural Developmen
22625
In His Name the Exalted
Num. 22149/630
Date: 1360/6/26 [16/09/1981]
Attachment
Mr. Behzad Janami Najaf Abadi
The Expelled one from Ministry of Agriculture & Rural Development
The government of the Islamic Republic of Iran is responsible to the Moslem and the ever-arisen people of Iran and cannot spend from the treasury of the Moslems for the salary and benefits of such individuals that follow the fabricated and misguided religion of Bahá'ísm, most of whose National Assembly members are [comprised of] individuals who are traitors to their country and nation, such as:
1- Brigadier General Mogharebi Russian spy
2- Major General, Dr. Ryazullah Ghadimi Savak special doctor
3- Colonel Naji Fugitive
4- Dr. Shapour Rassekh Savak collaborator and fugitive
5- Dr. Mehri Rassekh Tutor of the fugitive Crown Prince, and hundreds of such individuals; on the other hand, in principle, the employment of such people, according to the law passed in 1301, was not allowed and all remuneration paid to them from the government treasury, must be taken back.
On behalf of the Minister of Agriculture and Rural Development
Salehi [Signature]
Source: Sarkoob va Koshtar Degar-andishan-e-Mazhabi dar Iran, Vol. 2, P.44, Document Number 4.