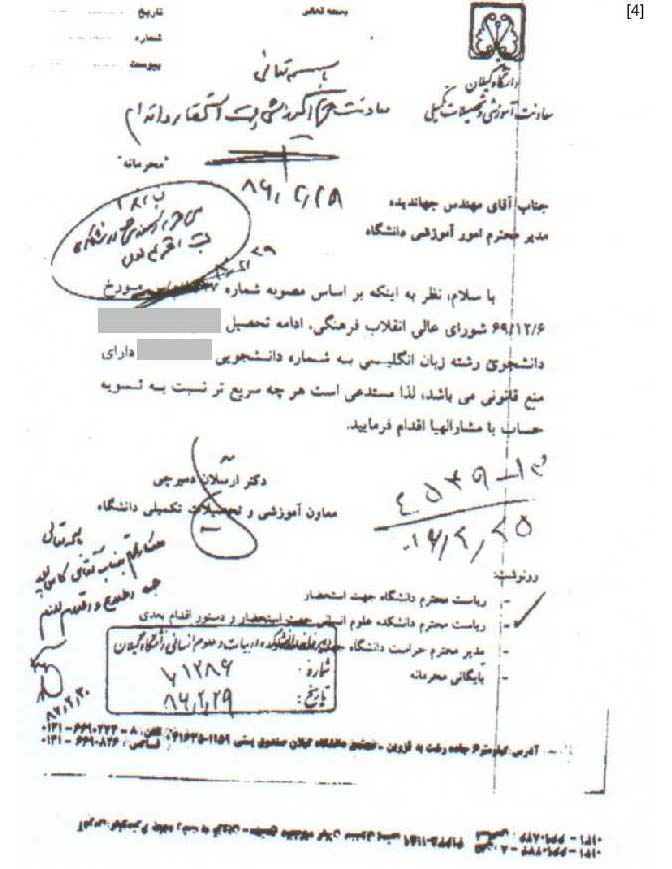 In the Name of God, the Sublime
[Logo of University of Gilan]
University of Gilan
Academic Counselling and Higher Education
Date:
Number:
Enclosure:
[Handwritten] In the Name of God
Respected Deputy Director of the Faculty, for information and action
[Signature]
Date: 28/2/86 [18 May 2007]
"Confidential"
Dear Mr. Jahandideh, Engineer
Director of University Academic Affairs
With Greetings, in view of the fact that Mr./Miss …, student of the English language, identity number …, according to decree number [not legible], dated 6/12/69 [25 February 1991], sanctioned by the Supreme Revolutionary Cultural Council, is legally banned from continuing her education, please take immediate action to settle her account.
Dr. Arsalán Damírchí [Arsalan Damirchi]
Deputy Director of Academic Counselling and Higher Education [Signature]
cc:
President of the university, for information

Dean of the Faculty of Human Sciences, for information and further action

Director of the Security Office of the university [text covered by stamp]

Confidential files
[Stamp]
Faculty of Literature & Human Sciences University of Gílán
No.: 1/1286,
Date: 29/2/86 [19 May 2007]
[Handwritten note] In the Name of God, the Almighty
Dear colleague Mr. Kámínpúr [Kamipoor],
for your information and action.
[Signature]
30/2/86 [20 May 2007]
[Address]