Expulsion of a Baha'i Student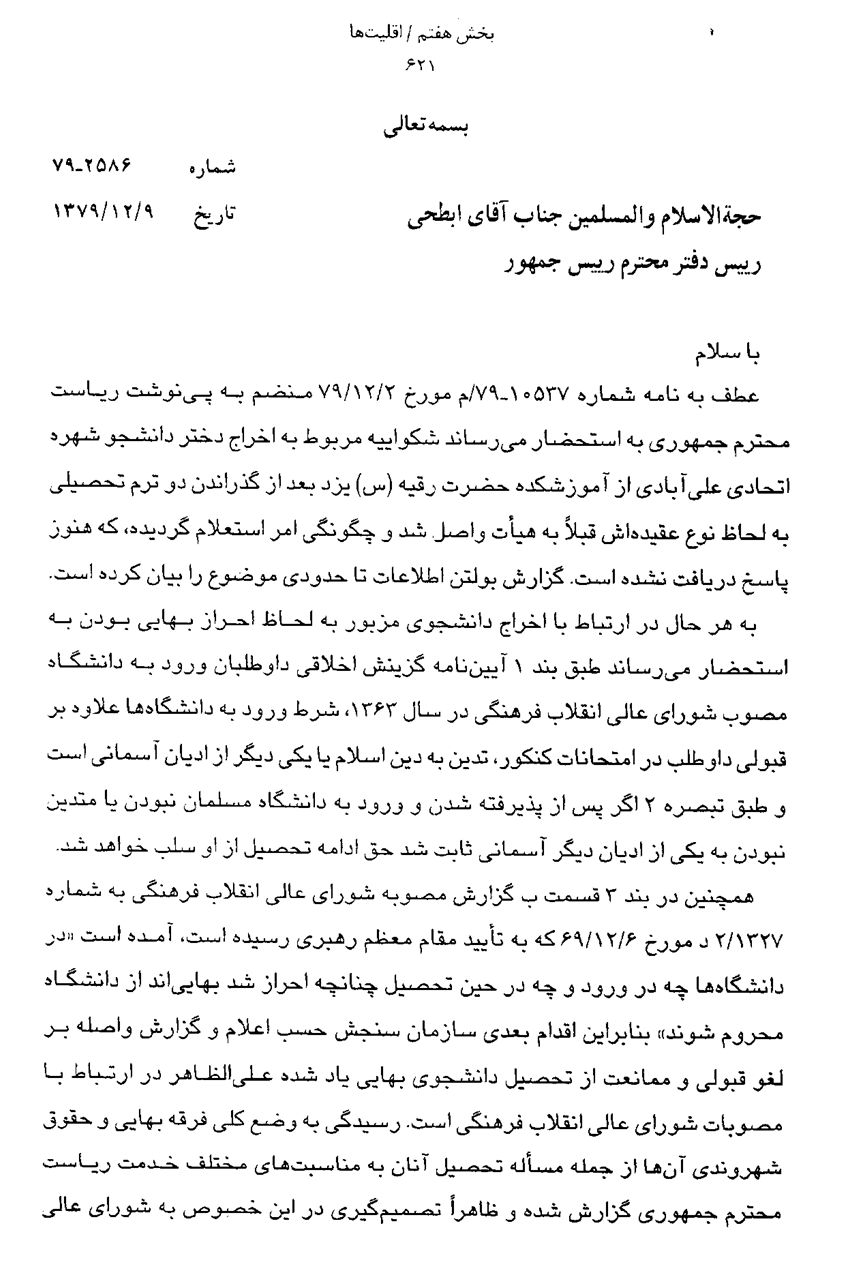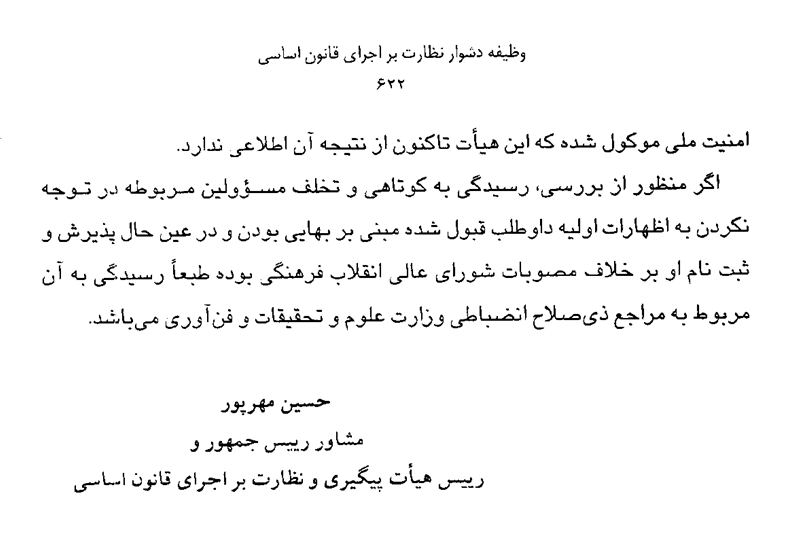 Section 7/Minorities
621
In the name of God, the Sublime
Number: 79-2586
Date: 1379/12/9 (February 27, 2001)
His eminence Jujjat'ul'Islam Mr. Abtahi
Director of the office of the President
Greetings:
With reference to letter No. 79-10537 dated 79/12/2 (20 February 2001) which enclosed a note by the President, this is to inform you that the grievance concerning the expulsion of Shohreh Etehadi-Aliabadi, a girl student at Her Holiness Roghyyeh's college in Yazd, following completion of two school terms due to the nature of her belief, was previously submitted to the committee and the attending circumstances were brought to light to which a response is yet to be received. The report of the information bulletin has, to some extent, highlighted the issue.
Nevertheless, in connection with the expulsion of the said student due to her being a Baha' we wish to inform you that under paragraph 1 of the "the Code of Moral Requirement" for the applicants who wish to to be admitted to the university, as approved by the Supreme Council of the Cultural Revolution in 1363 (1985), the criteria for admission of the candidate to universities in addition to passing the entrance exam, is their adherence to Islam or one of the other official religions. If based on the clause 3, after acceptance and admission into the university, it is established that the student is not Muslim or an adherent to one of the other official religions, his right to continue education is revoked.
Also the provision number 3 section B of the resolution of the Supreme Council of the Cultural Revolution No. D 2/1327 dated 69/12/6 (Feb 25, 1991) as approved by the Supreme Leader denotes "in the universities, whether at the time of entrance or during the course of study, once it is established that they are Baha'is, they should be excluded from the university." Therefore, follow-up action stage of the Examination Committee based on their report announcing the repeal of the acceptance of the Baha'i student and the denial of her right to study is clearly in accordance with the decisions of the Supreme Council of the Cultural Revolution. Addressing the overall situation of the Baha'is and their civil rights such as the issue of their education, the matter was brought to the attention of His honor, the President, on various occasions and apparently the decision on this issue has been entrusted to the Supreme Council for National Security. This committee, so far, has not been informed of its outcome.