Expropriation of the Bahai' Cemetery in Amol
This document clearly indicates that Mostazafan Foundation of Mazandaran confiscated the Bahá'í cemetery in Aamol (in the Province of Mazandaran), with the justification that it belonged to the Omanaa Company. A Bahá'í-owned non-profit organization, Omanaa Company managed Bahá'í properties and cemeteries prior to the Iranian Revolution, after which it too was confiscated and all its assets were illegally repossessed and given to the Foundation.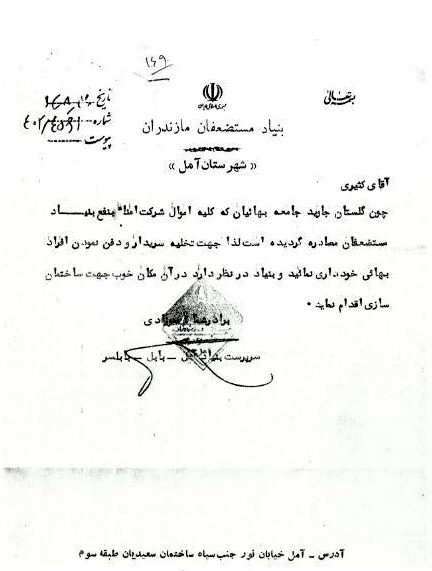 In His Exalted Name
Mázandarán's Foundation for the Underprivileged
-Province of Amol-
Date: 62/8/26 [November 17, 1983]
No.: 402/4561
Mr. Kasiri:
As the entire possessions and properties of the Omaná company have been expropriated to benefit the Foundation of the Underprivileged, in order to evacuate the custodian of the cemetery, refrain from burying any more deceased Bahá'is in the Bahá'i Community's Eternal Rose Garden.
Signature of the Supervisor of the Foundation for Babol and Babolsar.
Address: Amol, Nour Avenue, unclear – Third floor