Expulsion of a Baha'i Student
According to this document, a Baha'i student is denied enrollment in the fourth year of high school at Towhid Educational Complex in Shiraz merely due to his religious beliefs. The superintendent of the high
school approves this student morally and academically yet expels him from school only because of him being a Baha'i.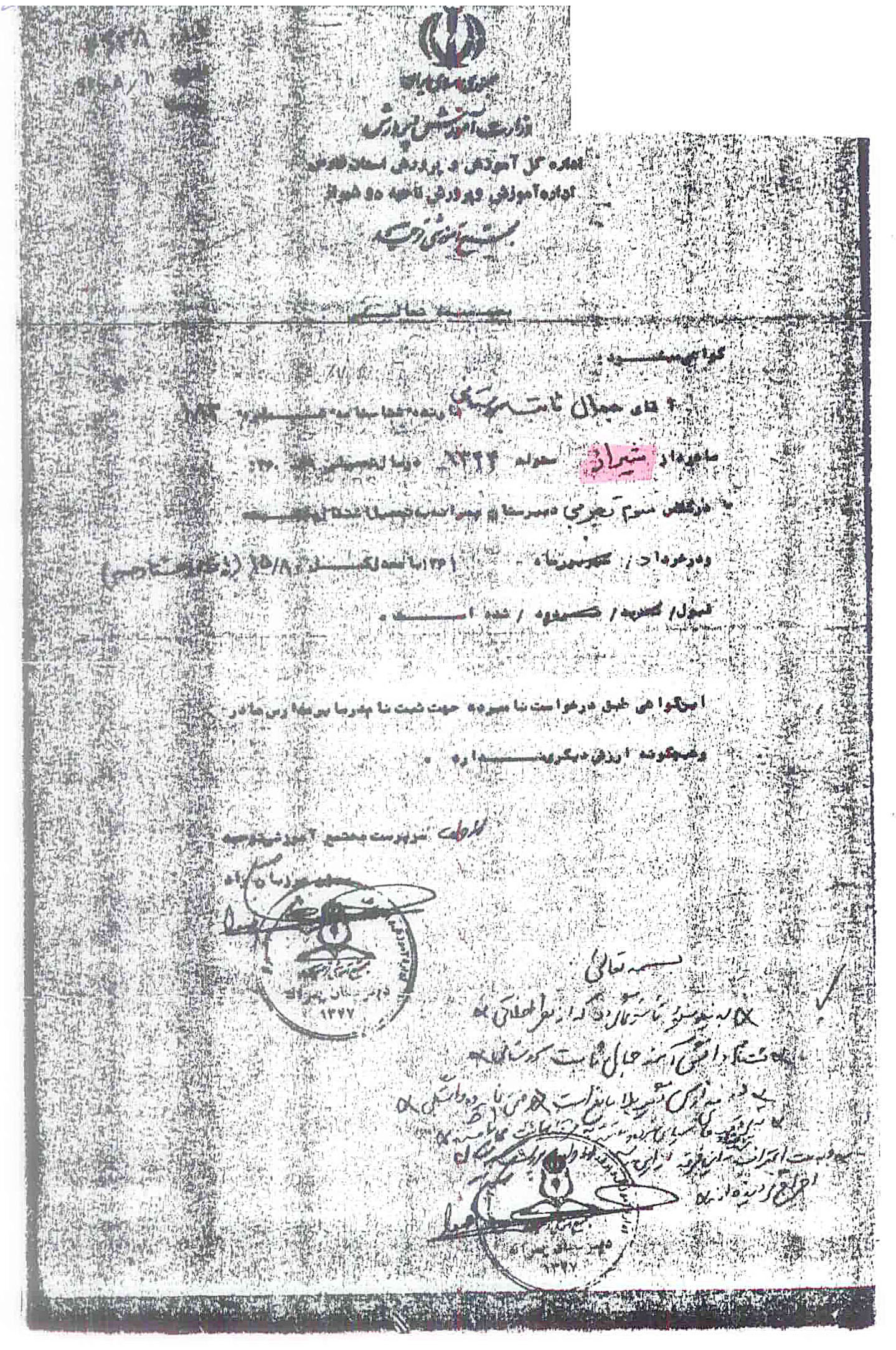 [Emblem of the Islamic Republic of Iran]
The Islamic Republic of Iran
Ministry of Education
Board of Education of the Province of Fars
Department of Education of District 2 of Shiraz
Towheed Educational Complex
No: 2683
Date: 61/5/11 (2/8/82)
Attachment:........
In His Exalted Name,
This is to certify that:
Mr. Jamal Sabet Sarvestani, holder of ID No. 83 issued in Shiraz, born in 1344 (1965) was enrolled in the third grade of Empirical Sciences branch of high school for boys ,in the academic year of 1360 (1981) and has passed his courses successfully with a score of 15.8 (Fifteen point eight) in the month of Khordad of 1361 ( June 1981).
This certificate is issued at his request for school enrollment and has no other value.
For Head of Towheed Educational Complex,
Marzban Rad
(Signature and stamp)
In His Exalted Name,
We affirm that in so far as his moral conduct is concerned, the enrolment of the student, Jamal Sabet Sarvestani in other schools is admissible. The above-mentioned person is not affiliated with any political group and is a follower of the Baha'i sect. Due to his admission of belief in this sect, he has been expelled from this school.
For: High school Superintendent
(Signature and stamp)
{Source: The Genocide and suppression of Religious Minorities in Iran (second volume) page 134 document No. 28}