Ministry of Culture and Higher Education
This document, issued by the Executive Board of Ministry of Culture and Higher Education, states the reason for depriving a Bahá'í student, Fazaneh Khosravi Hamedani, of access to higher education due to her affiliation with "the misguided sect". The condition for admitting her back to the university is to repent three time in widely circulated newspapers in the country.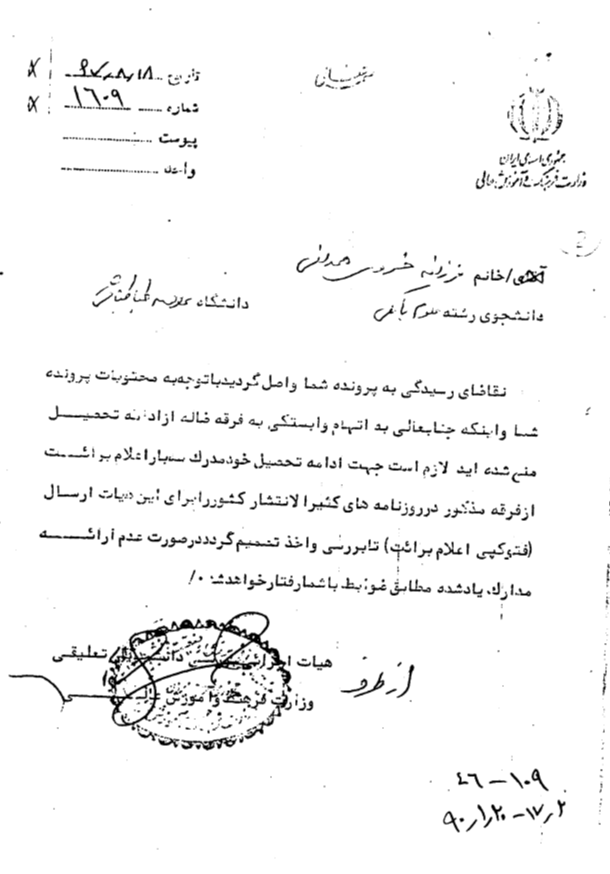 [Logo]

Islamic Republic of Iran

Ministry of Higher Education

In His Name, Exalted Be He

Date: 67/8/18 (09/11/1988)

Number 1609

Attachments….

Unit….
Ms. Farzaneh Khosravi Hamedani
Field of Study: Banking Allameh Tabatabai University
Your request to consider your file has been received. Given its content, and that you are barred from continuing your education on the charge of being associated with the misguided Bahá'í sect, should you wish to continue your education, it would be necessary to prove your innocence by recanting your faith in the above-mentioned sect three times in widely circulated newspapers and send those copies to this board so that it may investigate and decided on your case. Without submitting these documents, you will be treated according to the regulation.
On behalf of the executive board of investigation the situation of students
Suspension Board of the Ministry of Higher Education
[Signed and Sealed]
46-109
90/1/20-17/2 (09/04/2011)